"God is Who I Was Missing"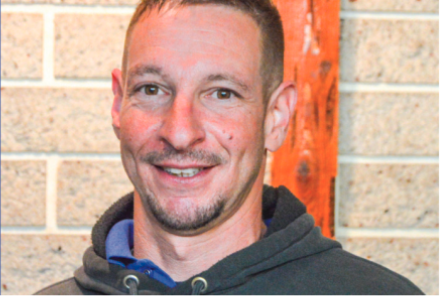 "I've Never Experienced the Kind of Joy I Have Now."
My name is Damien and I was in my early 30s when I realized alcohol was becoming an issue for me. Initially, it was a weekend social thing, just hanging out with my buddies and drinking. Before long I was getting drunk every weekend, and then my drinking started spilling into
the week.
As a father who loves my children deeply, I knew I needed help, that I needed to get myself straight. I entered a 30-day recovery program, and it worked for a while. But that program didn't address the personal heartbreak behind my drinking and I eventually returned to the bottle.
Thankfully, my pastor knew the people here at Reno-Sparks Gospel Mission and got me connected. I knew from the moment I arrived that this place was different. There's
fellowship from the moment you walk in the door, and I've learned so much here in this program—especially about my need for God.
You see, I grew up going to church but I never had a relationship with God, and I didn't really know who Jesus was. That has changed through the Mission's 15-month recovery program. Through counseling and amazing classes about forgiveness and walking with God, I know now that God is who I was missing in my life. Now I've been given an opportunity to start my life over, alcohol-free and focused on Christ.
I will graduate from the program in a few months, and I can tell you I've never experienced the kind of joy I have now. I can't wait to be reunited with my children and to be a Christian example for them. There's really no way to adequately thank you for supporting the Mission. Just know that you're helping so many men and women. And without you, this place wouldn't be here.
Thank you for giving more people like Damien a fresh start through your continued support today!
To read the full newsletter, click here.